You have seen The Real Housewives of Beverly Hills star Kyle Richards' oldest daughter, Farrah Aldjufrie, grow up right before their eyes. Kyle even threw a party for her daughter on her 30th birthday in 2018, but her father was missing. Who is her birth father?
So to find out more about the Los Angeles real estate agent. Let's get the scoop on Farrah below.
Farrah Aldjufrie is the oldest Daughter of Kyle Richards
Farrah Aldjufrie was born in 1988 in California. Her mother is of Irish and English heritage while her father's side has Indonesian ethnicity.
Farrah is the firstborn child of Kyle and ex-husband Guraish Aldjufrie. She raised in Beverly Hills. But unfortunately, her parents divorced when she was four years old.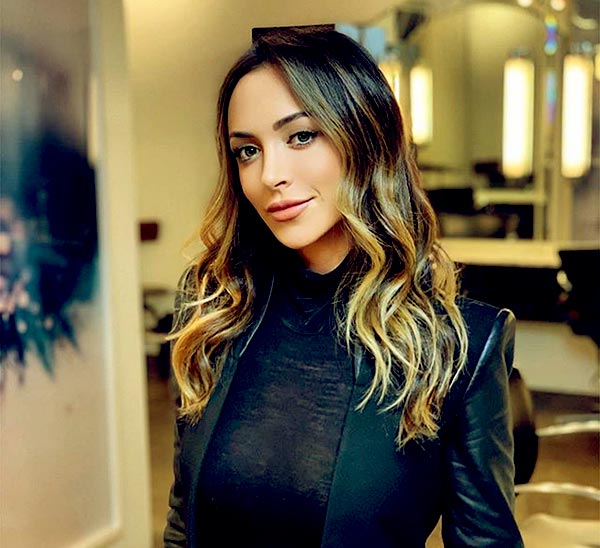 Farrah's mom and dad got married the year; she was born. Her parents met at a Tina Turner concert, and eventually, the two fell in love. They wedded in a small ceremony which was attended by close friends and family.
Unfortunately, their married life didn't last long and separated in 1990. Then, they divorced after two years. Later her married real estate magnate Mauricio Umansky in 1996.
Farrah has Three Younger Half-Sisters
She has three younger sisters; Aleia Aldjufrie, Sophia Aldjufire, Portia Aldjufrie from her mom's second marriage. Despite her younger sisters growing up on TV, she says her family is pretty regular.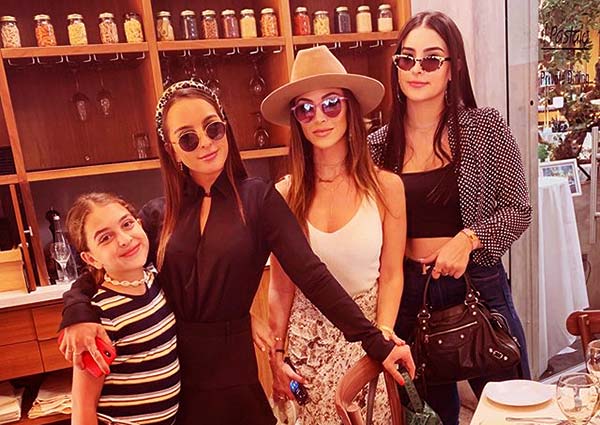 All of her sisters' have appeared on the reality show Real Housewives. Alexia Umansky joined the Family Biz, and now, she is selling homes just like her dad, Mauricio. Her younger sister, Alexia, is a real estate agent. Alexia graduated from Emerson College. Umansky is an agent and marketing specialist in The Umansky Team located in Los Angeles.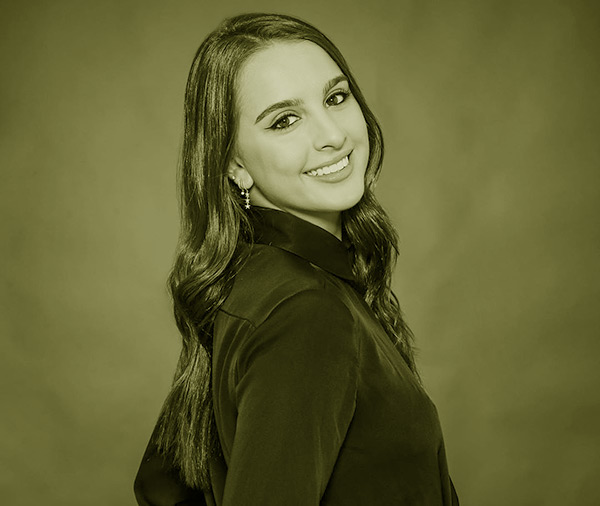 Her sister, Sophia Kylie Umansky is a model as well as an influencer. The 20-year-old model walked on the runway at New York Fashion Week. Her mother shared a glimpse of Sophia's supermodel strut on Instagram. Scroll down to see the post.
Farrah's youngest sister, Portia Umansky, is following her mom's designer-clad footsteps. Her little sister has her own Instagram account under the name "@portia_umansky," which is managed by her mom Kyle. On her Instagram, Portia has over 14k followers.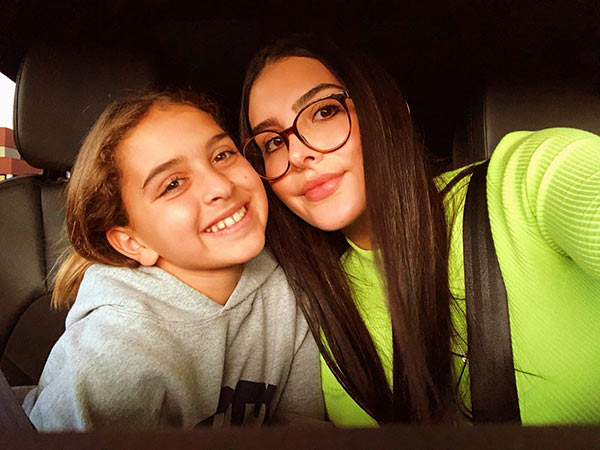 Farrah often shares pictures of her sisters on her social media, where the four are having a good time.
She Works at The Agency
Farrah joined New York University to study psychology after graduating from the top of her class in Beverly Hills. Two years later, she returned home and transferred to the University of Southern California. Eventually, she graduated with a bachelor's degree in psychology and a minor in Business.
Kyle's eldest daughter works as an agent in Los Angeles-based real estate firm, Mauricio Umansky. Also, she has her own office, which is just next to her stepfather, aka her best boss and mentor.
As a kid, she always has been interested in real estate. Aldjufrie was the only child for the first eight years and spent lots of her time with them.
But she has no interest in the other family business. While her mother, aunt Kim Richards and cousins Nicky and Paris Hilton make their career in the film industry. Despite growing up in the limelight, Farrah has no desire to pursue her career in the acting field.
However, Farrah repeatedly appeared on the Real Housewives, along with her sisters. During the time, She once said that she is just a natural a little shyer than her mom. Farrah is more a behind-the-scenes person and enjoying her job and making a lot of money.
Is Farrah Aldjufrie Married or Still Single?
Neither she is married nor single. The real estate broker is in a relationship with a handsome guy named Alex Manos. Alexia is the owner of the automobiles, Beverly Hills Car Club. He buys and sells some of the world's most beautiful and vintage cars. The vehicles reflect the gamut of today's social and economical experience. If you love vintage cars, then check out on her boyfriend's website.
As you already know, Farrah is a shy person, but she's not shied to flaunt her love life. However, it is unknown, his long time they have been in a relationship.
Back in July 2019, the agent took to Instagram and wished a happy birthday to her boyfriend, Alex, in a lovely way. She shared a series of photos of the two. She captioned the photo that read, "Happy Birthday @mralexmanos." She thanked him for inspiring, motivating, and teaching her every day.
Farrah's Relationship with her Real Father and Stepdad
Farrah is a pretty busy girl. She has the two most important men in her life with the best throwbacks. Farrah's mom, Kyle, and father, Guraish, introduced her into the world in October 1988. Her stepdad, Mauricio, and biological father raised her. She celebrates every occasion with her two dads and family.
Farrah even shared some great throwback photo of herself with her both fathers Guraish and Mauricio over the years. She posted a cute photo of her with her birth father when she was just a baby with her cousins, Paris and Nicky Hilton.
In another post, she wished her both fathers, uploading the throwback pictures and captioned it, "Happy Father's Day."
Mauricio is a doting father. She describes her stepdad as a boss, teacher, leader, friend, and mentor.
How Much Does Farrah Brittany Make From Her Profession?
The Real Housewives of Beverly Hills star, Kyle's daughter, represents millions of dollar properties. She walked in the footstep of her stepdad and became a successful real estate broker. As a real agent, she has sold many multimillion-dollar homes in Southern California.
As of 2020, Farrah Aldjufrie's estimated net worth is around $5 million. Though she has disclosed her actual salary to her fan, likewise, the real agent average salary is $50k so, we can assume that she might be earning the same range of salary.
On the other hand, her mother, Kyle Richards, has a jaw-dropping net worth of $100 million. Additionally, she earns a salary of $270,000 per season from The Real Housewives of Beverly Hills. She makes more money from other ventures, such as acting and more. Also, Richards engaged in a range of business ventures.
Further, the reality star owned a chain boutique called Kyle by Alene Too. Moreover, Kyle is an author and published a book titled Life is Not a Reality Show: Keeping It Real with the Housewife Who Does It All.
Farrah has a Luxurious House
The daughter of RHOBH's Kyle Richards, Aldjufrie, has a brand new home. She has a big career in real estate and one of the top brokers in Los Angeles.
The gorgeous lady bought a lavish home by herself. She also shared the pictures on her Instagram. It has a modern-but-cozy living room, a roaring fire. The living room also has a wall of glass sliders, a round coffee table books, an L-shaped leather couch, and two structured chairs, which as perfect for guests. Furthermore, she loves cars and has a few collections of vintage cars.
Farrah Aldjufrie is on Social Media
The real estate agent has a massive number of followers on different social media platforms such as Twitter and Instagram. She is active as "@farrahbritt" on Instagram, where she has over $340k followers as of 2020. In addition, she has two cats and very obsessed with them.