Carlton Gebbia is no stranger on-screen. Gebbia's appearance on Bravo's reality show 'The Real Housewives of Beverly Hills' gradually rose to fame. During the show, she was sued by her housekeepers. But why? However, the reason is still unclear.
Additionally, Carlton is one of those real housewives who filed divorced from their husbands. So far, what is she doing after she left the show? Let's known everything about this reality star, such as her age, relationship status, allegations, income, and much more.
Who is Carlton Gebbia?
Born and grew up in South Africa and London, Carlton Gebbia moved to Los Angeles, California, to pursue her career in acting. However, she hasn't disclosed the info regarding her personal life, such as about her family, siblings, and early life.
Carlton is an actress as well as an interior designer. She has pretty impressive heights and is an American by nationality.
Carlton Gebbia Involved in Witchcraft
Gebbia describes herself as a 'Wiccan.' She grew up in a spiritual family and has been involved with Wicca since she was seven. Her grandmother was practicing pagan, and her mother was a psychic.
Gebbia said about it until the show. She has been very quiet and protective over what she believed in.
Carlton Gebbia on The Real Housewives of Beverly Hills
Carlton Gebbia made her first appearance on season 4 of The Real Housewives of Beverly Hills along with a new cast Joyce Giraud de Ohoven, in 2013. But sadly, she did not appear after one season.
During the series, there were loads of drama that entertainment the viewers. The Bravo's show focuses on the lives of Kyle Richards, Lisa Vanderpump, Kim Richards, Yolanda Foster, Brandi Glanville, and Joyce Giraud de Ohoven.
Carlton Gebbia told PEOPLE, she had great moments with her castmates. But why she didn't return on season five?
According to her word, Gebbia was offered to work with her husband in another reality TV show. While in one episode of the RHOBH. Kyle accused Carlton of being anti-Semitic.
Moreover, she appeared in many TV series, including The Young and the Restless and Suddenly Susan.
Who was Carlton Gebbia's Husband?
The reality star Carlton was married to David Gebbia, the owner of Stockcross Financial Services. After being married for 20 years, the couple ended their marriage in divorce. But why she and her husband chose to separate from each other. https://www.keyexteriors.com/
It is unknown when and where the two exchanged the vows. Everything was going well in their marriage, but as time passes, the conflict started between them. Subsequently, they announced their separation in August 2016. At the time, Carlton and David split but living together under the same roof for the wellness of their children.
It's not Carlton who filed for divorce, but it was her then-husband, David — citing irreconcilable differences in November 2017. Back in September 2018, she commented posted a photo of herself and David on her Instagram, which has removed now. She captioned it,
"Guess I'm the last to find out…officially divorced I think now the Games begin. She added U broke my heart."
Following their divorce, the former couple listed their $22 million home on the market.
Is Carlton Gebbia Dating Someone Right Now or Still Single?
Well, after her divorce, the RHOBH star has kept her life very confidential. Going through her Instagram, she posts some cozy pictures with a guy whose Instagram name goes by "danielpatrickellis." However, we are not sure that they are dating or not in real life.
Daniel Patrick Ellis is a model, actor, TV-Host, and a recording artist. Also, he is n agent for Abrams Artists Agency. Additionally, he modeled for top brands like H&M, Benefit Cosmetics, Laura Mercier, and many more.
Carlton Gebbia's Children
Carlton has three children; Destiny, 17, Mysteri, 16, and Cross, 8, from her previous marriage. Gebbia's daughters, Destiny and Mysteri have all grown up now. Back in 2017, she shared a picture of her two daughters on her Twitter account.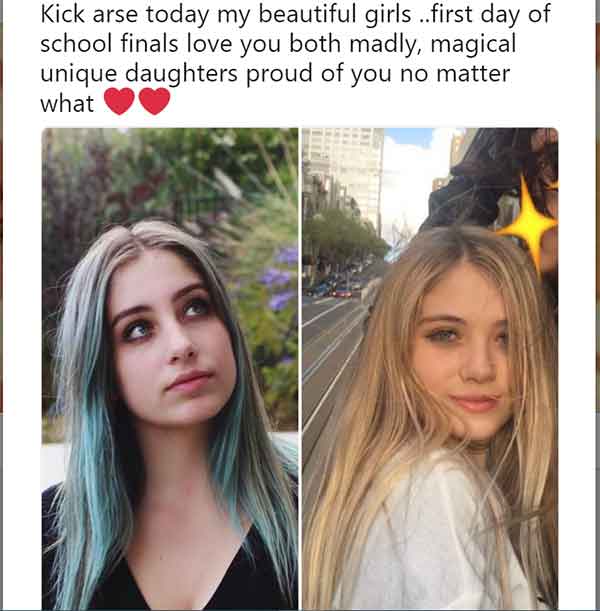 By profession, Destiny is a model. The Real Housewives of Beverly Hills alum took to Instagram to shared some clip of the runway at the Romeo & Juliet runway show at New York Fashion Week Spring/Summer 2019.
In the video, Destiny walked on the runway wearing a cute, "striped skirt-and-top combo under a tomato-red jacket". Though it was her daughter's first New York Fashion Week show, she posted the video and captioned it; she is so proud of her daughter.
Watch the video below:
Moreover, Gebbia's son, Cross, is now in 2nd grade. Carlton posts many pictures of her son on her Instagram page. Also, she took to Instagram to wished a happy 8th birthday on May 13, 2019.
How Does Carlton Gebbia Make Her Worth?
Carlton is an interior designer and actress. Most of her earnings come from her profession and has ten years of experience in this field. It seems like she makes pretty good money from her job.
Furthermore, she earned quite an impressive salary from the RHOBH that added to her net worth. However, she hasn't revealed the amount that she got from the show. According to sources, Carlton Gebbia's net worth is believed to be around $150 million.
She made some worth from her appearance in the televisions such as Eyes of the Serpent, Time Share, and Pretty When You Cry. Besides her acting and interior design, Carlton is working on children's book and a horror movie script.
On the other hand, her ex-husband David Gebbia is an American businessman and is the owner of Stockcross Financial Services. Also, he wons a construction company and a sports management firm called Rival Sports Group.
Why did Housekeeper Sue Carlton Gebbia?
Her housekeeper accused Carlton Gebbia of abusing her physically, verbally, and emotionally while working at her home. The housekeeper said she was hired by Carlton back in 2011 as a nanny, assistant, nanny, and chauffeur.
According to TMZ, the unidentified woman who was referred to in the lawsuit as Jane Doe claimed that the former RHOBH star attacked her at her Beverly Hills home. During the incident, Jane had reportedly texted her ex-husband, David, to let him know what happened.
When the housekeeper tried to clam Carlton down, she yelled and pushed her so hard and fell against the door. The housekeeper was poorly injured and was given two weeks off. According to the lawsuit, she returned to work, but Gebbia fired her. Even more interesting, due to her troublesome behavior, she allegedly jumped off the second story of her home.
Daily Mail reported, the former RHOBH star denied all allegations and claimed as revenge for losing her job.
Q&A Section
When was Carlton Gebbia born?
Carlton Gebbia was born on October 17, 1973.
How Old is Carlton Gebbia?
Carlton Gebbia is 46 years old now.
How much is Carlton Gebbia's net worth?
Carlton's net worth is $150 million in 2019.
How many children does Carlton Gebbia have?
Carlton Gebbia has two daughters and a son.
Who was Carlton Gebbia married to?
Carlton Gebbia was married to businessman David Gebbia.
Quick Info
| | |
| --- | --- |
| Name | Carlton Gebbia |
| Date f Birth | 1973-17-10 |
| Nationality | American |
| Age | 46 |
| Profession | TV Personality and Interior Designer |
| Net Worth | $150 MIllion |
| Marital Status | Divorced |
| Spouse | David Gebbia |
| Children | Three |
| TV Show | The Real Housewives of Beverly Hills |