Remember Kristen DilMera from the Days of Our Lives? Yes, Eileen Davidson has given a good reason to love her.
After she quit the show, she appeared on the reality show 'The Real Housewives of Beverly Hills' but left the show after three seasons. Was she fired or it's her own decision to leave? Here's we have got the details of her, including her profession, husband, past affairs, and much more.
Why is Eileen Davidson Famous?
Eileen Davidson is an actress and daytime soap opera royalty who is the best known for playing as Ashley Abbott on CBS's hit series 'The Young and the Restless' and 'The Bold and the Beautiful.'
Eileen is the youngest of seven children of Charlotte and Richards Davidson, born in Artesia, California. She studied at St. Paul High School in Santa Fe Springs, California.
After that, she decided to make her career in the fashion industry and started modeling in California and Mexico City as well as appeared in commercials and print works in Europe.
How Did Eileen Davidson Get Into The Hollywood?
Charming Eileen started her acting career when she was 20. Eventually, she starred in several independent movies such as the cult horror classic 'The House on Sorority Row.'
The actress got a breakthrough role as Ashley Abbott in a soap opera 'The Young and the Restless' in 1982 and played until 1988. Then she returned on the show in 1999 and left and again appeared from 2014 to 2019.
Later she went on to star in the film 'Eternity' opposite Jon Voight and Armand Assante and Stephen Cannell's primetime drama series 'Broken Badges.'
After three nominations, the actress won a Daytime Emmy award for Outstanding Lead Actress in the year 2014. Currently, Days of Our Lives actress is working on a film adaption of one of those books she co-authored with her niece.
Was Eileen Davidson Fired From The Real Housewives Of Beverly Hills?
Days of Our Lives Actress Eileen Davidson joined the cast of The Real Housewives of Beverly Hills in fifth season November 18, 2014, while her co-star Maloof, Grammer, and Armstrong appeared as guests. The show is about the lifestyles of several women living in Beverly Hills, California.
She appeared as housewives for three full seasons and appeared as a guest in season 9. She was still buzzing in the media after she left the show as it wasn't without controversy. Recently, her castmates, Lisa Vanderpump, claimed that she was fired from the show.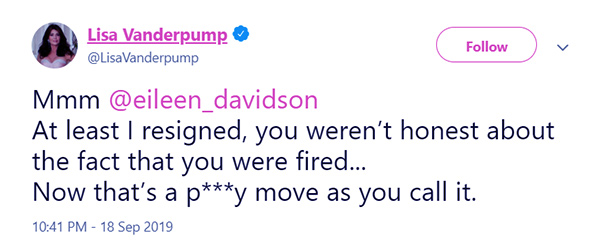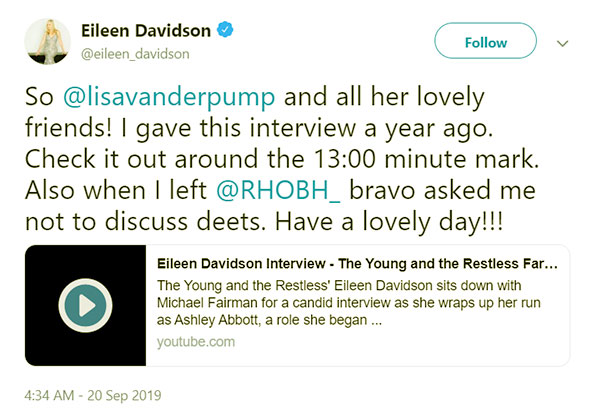 To which, Davidson clarified that producers asked her to take a small role in the show, so she decided to leave the show.
Eileen Davidson Reunited with Former RHOBH Stars
The former housewives Eileen reunited with RHOBH stars Erika Girard, Lisa Rinna, and Kyle Richards. The RHOBH crew hit the red carpet in the early months of September in support of Eillen's latest film Project.
Caption:- Eileen Davidson reveals whether she is returning to RHOBH or not.
Eileen took a snap together with her castmates at a charity pasty hosted by Kyle Richards. She shared the selfie on her Instagram and captioned:
"so much fun with these gorgeous girls."

Caption: Picture of Eileen Devidson with her castmates.
Did you notice that there's one big difference between Eileen Davidson's early pictures and her current snap; her hair color, the actress, has colored a platinum blonde with a middle part this fall. People are gushing over her new hairstyle on social media.
How Much Is Eileen Davidson Net Worth?
The former RHOBH star makes enormous money from various sources such as modeling, acting, and promotion deals. As of now, Eileen Davidson has an estimated net worth of $3 million.
She had worked in the film industry for almost four decades. Over the years, she starred in numerous movies and televisions. Further, The Young and the Restless actress makes an impressive worth from Bravo's show 'Real Housewives of Atlanta.'
While Davidson was on the show, she made $750,000 per season and eventually became the highest-earning reality star on the show.
House & Cars Details
Eileen Davidson bought her first home in Malibu. She even shared a picture of her gorgeous Malibu home on her Instagram. However, her property's worth is still under review.
Davidson reportedly purchased her first-ever home in Malibu, which features black and white shutters, wooden shingles, and three quaint dormers, a tea house, Eileen thanked The Young and the Restless for helping her to pay.
Eileen loves to drive expensive cars across the USA. She owns a crossover SUV Ford Flex.
Who Is Eileen Davidson Married To?
Days of Our Lives actress is married to her current husband, Vince Van Patten. Vince is her third husband. The couple resides in Malibu with their kids.
Reportedly, she met Vince on the set of a soap opera when both of them were married to someone else. At the time, she was married to soap actor Jon Lindstrom while her husband was married to Betsey Russell.
In 2000, Jon filed for divorced from Eileen, and Russell divorced in 2001, eventually filling up each other's voids and started dating. After dating for almost three years, the two got hitched on April 15, 2003, and are married for more than a decade.
The Young and the Restless actress celebrated her husband's birthday on October 17, 2019, along with their children, family, and friends. https://premiersolarcleaning.com/
She had posted a series of images on her Instagram and wished a happy birthday to her husband.
She lives in Malibu with her husband, who is an actor, writer, and producer, and host of "The World Poker Tour, Vince Van Patten"(son of acting legend Dick Van Patten), and their 13-year-old son Jesse. She is a proud stepmom to 23-year-old Duke and 21-year-old Vinny as well.
Past Relationships
Before Patten, she was married twice in her life. The actress was married to her first husband, Christopher Mayer, who is an actor. They were married from 1985 to 1986.
Then she remarried her second husband, Jon Lindstrom, who is also an actor. She was married from 1997 to 2000. She and her then-husband both starred together in the TV series 'Santa Barbara.'
How Many Kids Does Eileen Have?
Eileen has three children, including Vince's two sons, Richards and Vinny, from his previous marriage. Together they have a son named Jesse Thomas Van Patten.
She shares a special bond with her children, which can be proved from her Gram, where she is seen uploading numerous pictures of her son and two-step sons.
Q&A Section
How Old is Eileen Davidson?
Eileen is 60 years old.
What are Eileen Davidson's Hobbies?
Eileen loves painting, surfing, playing the piano, and electric guitar.
Who is Eileen Davidson's Husband?
Eileen is married to current husband, Vince Van Patten, who is an actor, producer, and host of the World Poker Tour.
What is Eileen Davidson's net worth?
Eileen Davidson's net worth is $3 million.
Who is Eileen Davidson's son?
Jesse was born to Eileen and her third husband, Vince.
Eileen Davidson Quick Info
| | |
| --- | --- |
| Name | Eileen Marie Davidson |
| Birthdate | 15 June 1959 |
| Place | Artesia, California |
| Age | 60 |
| Profession | Actress, Author, TV Personality |
| Net Worth | $3 Million |
| Spouse | Vince Van Patten |
| Ex-husbands | Christopher Mayer, Jon Lindstrom |
| Children | 1 |
| Website | www.eileen-davidson.com |