In Hollywood, there are many celebrities who married more than once in their life. Some of these celebrities prefer not to maintain any relationship with their exes, while others share a comfortable equation with them.
Likewise, American tennis player-turned-actor, Vincent Van Patten, has been married twice. Though most of the people really don't know about him at all. So, who is Vincent Van Patten? Well, the former tennis player is married to the Real Housewives of Beverly Hills, Eileen Davidson.
Vincent was previously married to ex-wife, Betsey Russell. Did he left Betsey from his current wife, or there're some other reasons. Let's find out.
Vincent Van Patten is the Son of Actor Dick Van Patten
Vince Can Patten was born to the late actor and businessman Richard Vincent Van Patten, aka Dick Van Patten on October 17, 1957, in Bellerose, New York. His mother, Patricia Poole, was a former June Taylor dancer. As of now, he is 62 years old and is of Dutch, Italian, and English descent.
Like most celebrities, the info of his childhood, as well as education, is still a mystery. Van Patten has two brothers, Jimmy and Nels. Both of his brothers followed the paths of his father and became an actor.
Vincent Van Patten Made His On-Screen Debut At Age Nine
Vincent is a former child actor. He is the youngest son of Dick Patten, who was best known for his role in the television series, Eight Is Enough. When he was in his preteen, his father's agent urged into the show business and appeared in multiple projects that include commercials. https://piedmontmastergardeners.org/
Further, he-guest starred on the tv shows such as Wonder Woman, The Courtship of Eddie's Father, and Medical Center. At the age of sixteen, Vincent starred in CBS's series, Apple's Way. In the series, he played the son of an architect and then also appeared as John Karras in CBS drama, Three for the Road.
Vincent First Starred in the Film in 1978
At the age of 21, Vincent made his first debut in the cult film classic Rock 'n' Roll High School. In forty years, he has played different roles in several movies such as Yesterday, Hell Night, Camp Fear, and more.
Additionally, Vincent is a screenwriter and producer. He wrote, produced and starred in the 1995 film The Break. Also, he co-wrote and produced the 2019 movie 7 Days to Vegas.
Vincent Van Patten Used to Play Tennis
In addition to his childhood acting career, Vincent is a professional tennis player. He started his tennis career in the late '70s. In the early '80s, his career took to the next level when he defeated John McEnroe.
However, he never won any tournaments, but he has reached the third round of the US Open twice.
Van Patten Has Been Married to Gorgeous Lady, Eileen Davidson Since 2003
Vincent and Eileen Davidson have been married for seventeen years. The couple tied the nuptials on April 14, 2003, and since then, the two are living a blissful married life.
Before that, the pair first met on the television series, The Young and the Restless, in 2000. At the time, Van briefly appeared as Christian, Ashley's boyfriend. Eventually, the two became more than good friends. When Van met Eileen, he was still married to his first wife, Betsey.
His wife, Eileen, took to Instagram with a celebratory snap that showed herself and hubby, Van. On April 15, 2020, the Days of Our lives actress and the 7 Days to Vegas celebrated their 17 anniversary. Eileen shared a photo on Instagram on which the couple was sitting outside, soaking up the sun. She captioned the photo, "Celebrating our 17th wedding anniversary on our balcony" with hashtags; #blessed, #satysafe, and a red heart emoji.
On the above post, the actress was wearing stylish sunglasses and a plunging floral outfit with a casual ponytail. Meanwhile, the former tennis player wore a white button-down shirt and a slicked-back hairstyle.
On 14 February 2020, The Young and the Restless actress celebrated Valentine's with Van Patten with a throwback picture from their wedding shot.
Is Vincent Van Patten Still In Touch With Ex-Wife, Betsey Russell?
The multitalented Patten was previously married to actress Bestey Rusell in 1989. However, being together for more than two decades, they ended the marriage in divorce. Betsey is widely recognized for her roles in the teen comedy film Private School.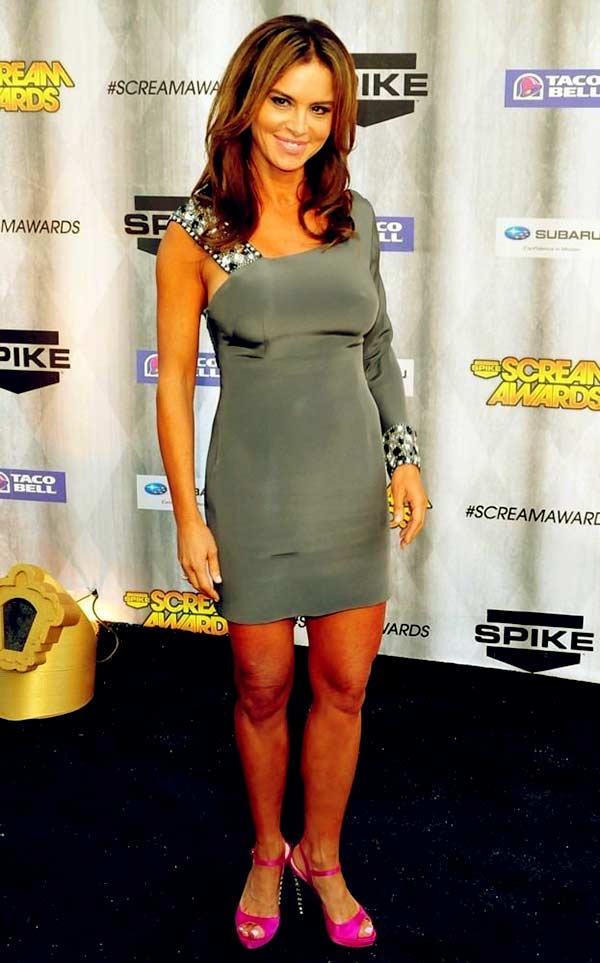 Betsey and Vincent got engaged in August 1988. After nine months of engagement, the two exchanged the vows on May 27, 1989, in North Hollywood. Their wedding reception was held at Van's father's Sherman Oaks home, which many attended by A-list celebrities.
However, neither Russell nor Patten revealed the reason for their divorce is still unknown. There's a rumor that Patten has had an affair with Davidson, which might be the cause of the divorce.
How Many Children Does Vincent Have?
Vincent is the father of three grown-up children; Richard Van Patten, Vincent Van Patten Jr, and Jesse Thomas Van Patten. His two sons have a good relationship with their stepmom, Eileen. The family of five live in New York.
The Young and the Restless actor's oldest son, Richard Van Patten, aka Duke Van Patten, was born in March 1993 and is 27 years old. He graduated in Master of Fine Arts. Duke follows the footstep of his parents and becomes an actor and starred in a few projects. Also, he is a writer and works for Bristol Old Vic Theatre School. Eileen wished a happy birthday to her oldest half-son via her Instagram on March 13, 2020. She posted a picture of three sons on her social profile.
Vincent Van Patten Jr was born on September 2, 1995, and is 24 years old. They both are born from his first wife, Betsey. The Young and the Restless actress shared the same above picture of the three sons and wished a happy 24th birthday to Vincent Pan Jr, aka Vinny, in 2019.
His youngest son Jesse turned 17 in 2020 and has a strong bond with his step-brothers.
How is Vincent Van Patten's Net Worth?
Vincent Van Patten earns fame and fortune through various sources. He is a former tennis player. Van Patten spent ten years in tennis as a right-handed player.
Aside from that, he makes a decent amount of money from his acting career. He has been working in the film industry since he was nine. Vincent Pan Patten's net worth is $2 million.
On the other hand, his wife, Eileen Davidson's net worth is $3 million. The Chino actor also made an appearance in a few episodes of The Real Housewives of Beverly Hills. She makes $750,000 per season.
Vincent Has an Account on Twitter
Despite being an actor, he maintains a low profile. He does have an account only on Twitter as "@VinceVanO_WPT," where he has over 12k followers.